Description
Until now, virtually the only timber accepted for use as polo mallet heads has been Argentinean tipa. Inevitably, a shortage of supply and quality control issues has led to tipa heads becoming prohibitively expensive and rarely are they available in acceptable weights.
We're pleased to say that over the past four years we've been using an exciting new alternative which performs exceptionally well. The timber used is sustainably managed mango wood sourced from India which has the perfect density allowing for large diameter heads in a complete range of weights.
The success of these heads is due to the  has exceptional drive they have and the feed back has been fantastic. Generally, they don't last quite as long as Tipa heads and are not suitable for big hitters but are perfect for the majority of players.
Once you've played with one of these heads, any other timber just feels dead"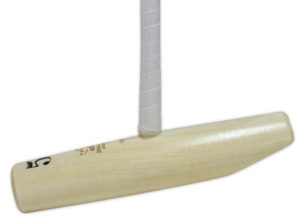 After almost a decade of manufacturing the world renowned Laver & Wood cricket bats I've come understand what creates a "sweet spot" which makes the difference between hitting a single or a six. That indescribable feeling of sheer power on impact as the ball pings away beyond expectations.  That's what we're achieving with the the Mango wod heads.  Unfortunately  cricket bat  willow doesn't last but the slightly denser mango wood does.  It has similar characteristics and benefits from being "knocked in" the same a cricket bat. Dents  on the hitting surface are to be expected but once the whole hitting surface has been compressed, the head performs best. A protective strip of cloth tape applied to the hitting face goes a long way to keeping the head from fraying.  Remember with any head, its critical to keep moisture from getting to the fibers!
Weight range 170-210 grams
Length 9 1/8" – 230 mm
Centre diameter 45-46 mm
Ends 40-41 mm
Hole size 15mm
Pre-threaded heads with 12.mm holes also available for Fibercane mallets
Hole angle 12.5 degrees
A complete guide to fitting heads to composite shafts can be found at: How to fit heads