Description
The Hurlingham croquet sets are superbly made traditional style croquet sets with regulation size and weight balls. The Hurlingham Mallets have  cylindrical hardwood heads with brass bound ends and an inlaid sighting line. The brass binding not only looks beautiful but it eliminates splitting around the edges of the mallet head from off centre shots.
Due to an unprecedented demand we are regretfully out of stock until mid November 2021.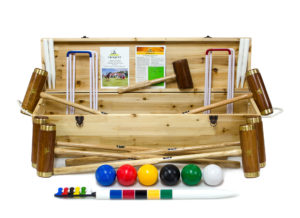 The mallets have an overall length of 36" and an average weight of 2 lbs 14 oz.
Contents:
6 x Brass bound Hurlingham mallets. 36″ English ash handles
6 x 11 mm bent iron powder coated hoops
6 x composite Garden balls. Weight 1/lb, diameter. 3 5/8″
1 x 6 colour centre peg with removable pin
1 x hoop mallet
4 x corner pegs
6 x coloured metal clips
1 x Laminated colour rules card with both Association and Golf croquet rules
28 page colour rule book with tips and tactics
1 x Solid pine storage box with rope handles or strong nylon carry bag