Description
The Particular Mallet has a 14 mm diameter solid fiber-glass shaft with an octagonal wooden handle on the top half. As with the Ori

ginal mallets they have 9 1/4″ long rectangular heads. They're available in weights from 2 lbs 12 oz through to 3 lbs 04 oz and overall lengths from 32″ up to 38″.   By far the most popular mallet specification is 3.00 lbs in weight with an overall length of 36″.
Heads and handles outside of the above parameters can be custom made to your specifications for an additional charge of NZ$40.00.
The Particular mallets are extremely strong and powerful and are ideal for extreme croquet and cases where the mallets get rough treatment, although the carbon shaft mallets have become far more popular for competition croquet.
Not sure what specifications are best for you? Click here.
Heads
The mallet heads are made from sustainably managed South American Massa which is chosen for its high density, stability and attractive rich colour. It has independent 'FSC Pure' certification that it's sourced from 100% legal and well managed forests. The timber is semi processed and air dried before having an inlaid sighting line and 'Tufnol' end plates fitted. Tufnol is widely recognized as being the most satisfactory material for use on the striking area of a croquet mallet. It's a 12 mm thick brown resin-impregnated cloth material, which is bonded with a slightly flexible adhesive onto the ends. The end plates are virtually unbreakable and provide a crisp and true surface for striking the ball.
Our standard mallet head measures 235 mm (9 1/4″) long x 60 mm (2 3/8″) wide x 65 mm (2 1/2″) high. Mallet heads may be made to other specifications if you prefer.
Handles

The octagonal shaped handles are made from American white ash and measure 26 mm x 30 mm before the grip is fitted. This can be customized if required. The 14 mm extruded fiber glass rod is fitted three inches into the handle and is extremely strong.
The average handle weighs 14 oz.
Weights
When an appropriate mallet handle has been fitted, lead weights are inserted into pre-drilled holes on the under side of the head and then plugged with hardwood dowels to achieve the desired overall weight. The standard weight mallet is 3.00 lbs overall.
Our distinctive gold crest is stamped on one side of the mallet head and the overall mallet weight stamped on the handle. Each mallet then receives no less than four spray coats of epoxy urethane with sanding in between coats to create a high luster, hard wearing finish.
Initials
To personalize the mallet, short names or initials may be stamped on the blank side of the mallet head in gold at no extra charge. Please note that we can only print in capitals at 36 pts as shown above. 10 letters is the maximum.
If you prefer to have a name or letters printed in gold on a 12 or 18 mm black label, please just mention it when ordering. The advantage of a label is that it's removable if circumstances change.
Grip Options
We use synthetic hockey stick grips. They're very comfortable, light and long lasting. At 1.6 meters long they can wrap the full length of most octagonal handles. These are fitted as standard and are available in blue, red, black, or green.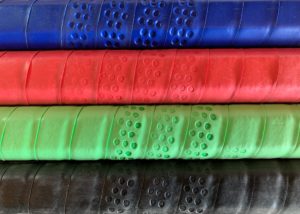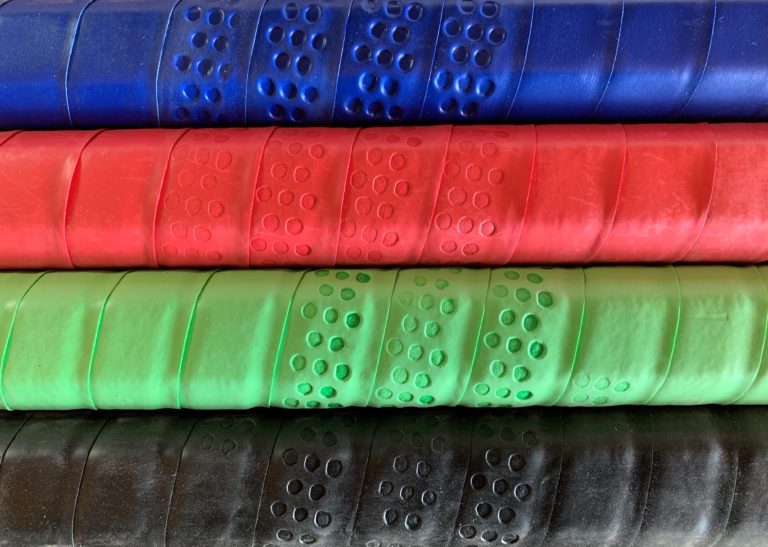 Replacement grips can be purchased from accessories.
For further details on selecting the right mallet, visit our croquet mallet options page.  An 8″  EVA roll grip can be fitted to the shaft for extra control when playing roll shots or jump shorts if required.
Please email George if you have any queries.
Mallets are often able to be despatched either same day or if they need to be made from scratch, within 7 days. DHL/TNT can usually deliver worldwide within about 4 days and your shipment can be tracked by visiting track your order.