Description
These mallets are a hybrid between the Original and Evolution mallets using lightweight carbon/EVA handles and attractive Sheesham wood heads with 12 mm thick tufnol end plates.
Heads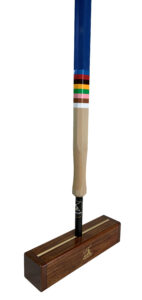 We only use imported hardwoods which are certified as being sourced from sustainably managed forests. The timber is air dried in block form for over three years. The inlaid sighting line is made from sycamore. Tufnol is a 12 mm thick brown resin-impregnated cloth material, which is bonded with a slightly flexible adhesive onto the ends. The end plates are virtually unbreakable and provide a crisp and true surface for striking the ball.
Our standard heads measure 65 mm (2 1/2″) wide x 60 mm (2 3/8″) high.  They're available in  lengths of 9 1/4″, 10″ and 11″.
Weights
When an appropriate mallet handle has been fitted, lead weights are inserted into pre-drilled holes on the under side of the head and then plugged with hardwood dowels to achieve the desired overall weight. Our standard weight mallet is 3.00 lbs overall. Mallet weights from 2 lbs 9 oz to 3 lbs 4 oz may be custom made at no extra charge.
Our distinctive gold crest is stamped on one side of the mallet head and the overall mallet weight stamped on the handle. Each mallet then receives no less than four spray coats of epoxy urethane with sanding in between coats to create a high luster, hard wearing finish.
Initials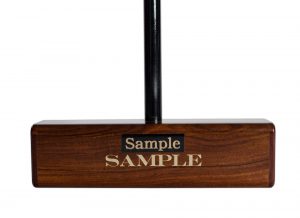 To personalize the mallet, initials may be stamped on the blank side of the mallet head in gold foil at no extra charge. Please note that we can only print in capitals at 36 pts as pictured. 6 Capital letters is the maximum.
Alternatively, if you prefer  we can print in gold on a 12 or 18 mm black label. The advantage of a label is that there's a variety of sizes and fonts and it's removable if circumstances change.
Handles
The most popular option is to have the top section of the handle shaped to an octagonal pattern 31 mm x 27 mm with an 8″ lower roll grip hand turned to an attractive and comfortable shape. For golf croquet players the roll grip is less likely to be required so the octagonal section is extended. Handles and heads can of course to be custom made to order. The preferred style of handle can be specified when ordering.
The virtually indestructible 17 mm diameter carbon and fiber glass shaft is foam filled to minimize vibrations.
EVA is a closed cell foam grip material which is light weight, comfortable and hard wearing. Its impervious to moisture and highly resistant to chemicals so they're easily washed to keep them looking like new. They're made in an octagonal shape and are available in an  red, blue, tan and light navy.  Our latest most popular handle configuration is an octagonal shape in three colours red/blue/tan with a turned tan roll grip.
The EVA is specifically made in a 35 mm tubular form of relatively firm hardness and is then shaped by hand. The standard is a traditional octagonal shape measuring 31 mm x 27 mm but this can be customized to suit the player.  35 mm round handles with flat sides with a circumference of 107 mm can be made in tan or light navy.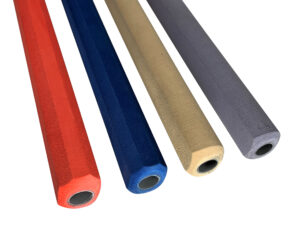 All mallets are supplied with  medium stiff shafts although we can supply a more flexible lively shaft if preferred. Unless specifically requested, the EVA comes to within 100 mm of the head, however, we can adjust this length as required. Handles can be supplied in any lengths up to 42″. All handles have an 8 coloured band showing the order of play.
Our latest and most popular (default) configuration is the a full length blue octagonal handle with a slightly turned tan section for the roll grip.
Optional Extras
The innovation continues. We can now offer two options for travellers. Our latest solution is a two piece 17mm carbon handle with 3D printed fittings.



Easily taken apart in seconds
No tools required
A fiberglass internal dowell to increase strength
Always perfectly aligned
Works for any mallet length
Alternatively we make two piece handle with a telescoping shaft allowing the user to adjust the height by up to 2″, or take the top octagonal section of the handle off for travelling.  The lower 17 mm shaft measures 19.5″. Maximum overall length 38″
These have a locator pin inside the top handle so that the head is always aligned correctly with the handle. They can be made in any colour and shape configuration. See Video Clip
Aluminium fittings  are available so that the heads can be removed for travel or changed over.  The down side of this is it adds weight to the center of the head which is rather counterproductive.