Description
Our mallets have evolved from several years sourcing the best possible materials and trialing different concepts and configurations.
The Laminated head.
Milled stainless steel end plates provide peripheral weighting to an attractive Indian Sheesham wood available in two different configurations. The wide laminated head is  60 mm wide by 55 mm high.
The main concept of the laminated head is to reduce the weight of the wooden section so that we can use thicker metal end plates, thus maximizing the effect of peripheral weighting. By re-distributing some of the mass into the stainless steel end plates moment of inertia is increased which gives greater power for less effort. Having the main weight of the mallet at the very ends the head, the mallet is more likely to swing in a perfect pendulum.  For longer or lighter heads we use a wider central core.
The standard head length is 10" in length but custom lengths are made to order at no extra charge.
The wide head option was inspired by US # 1 Women's GC player Cheryl Bromley.  This lowers the centre of gravity and further enhances head stability.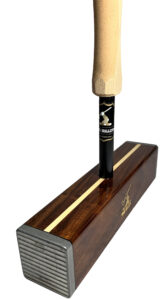 These are superbly balanced mallets that provide the player with more power and yet maintain better control.
We only use imported hardwoods which are certified as being sourced from sustainably managed forests. The timber is air dried in block form for over three years. The white central core is made from sycamore and this has an inlaid dark sighting line.
The alternative to a laminated head is the single block with a sycamore sighting line as pictured.
Handles
The virtually indestructible 17 mm diameter carbon and fiberglass shaft is foam filled to minimize vibrations and they weigh an average of just over 10 ounces.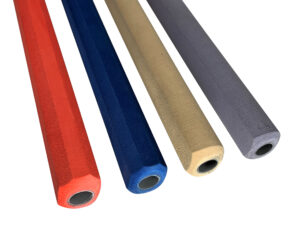 EVA is a closed cell foam grip material which is light weight, comfortable and hard wearing. Its impervious to moisture and highly resistant to chemicals so they're easily washed to keep them looking like new. They're made in an octagonal shape and are available in red, blue, tan and light navy.  Our latest most popular handle configuration is an octagonal shape in three colours red/blue/tan with a turned tan roll grip.
The EVA is specifically made in a 35 mm tubular form of relatively firm hardness and is then shaped by hand. The standard is a traditional octagonal shape measuring 31 mm x 27 mm but this can be customized to suit the player.
35 mm round handles with flat sides with a circumference of 107 mm can be made in tan or light navy or tan as pictured above.
All mallets are supplied with  medium stiff shafts although we can use a more flexible lively shaft if preferred. Unless specifically requested, the EVA comes to within 100 mm of the head, however, we can adjust this length as required. Handles can be supplied in any lengths up to 42″.
All handles have an 8 coloured band showing the order of play.
Initials


To personalize the mallet, initials or short names may be hot foil printed in gold on the blank side of the mallet head at no extra charge. Please note that we can only print in capitals at 36 pts as shown above. 6 letters is the maximum.
Alternatively, if you prefer, we can print in gold on a 12 or 18 mm black label. The advantage of a label is that there's a variety of sizes and fonts and it's removable if circumstances change.
Two piece handle for travel.
The innovation continues. We can now offer two options for travellers. Our latest solution is a two piece 17mm carbon handle with 3D printed fittings.



Easily taken apart in seconds
No tools required
A fiberglass internal dowel to increase strength
Always perfectly aligned
Works for any mallet length
Alternatively we make two piece handle with a telescoping shaft allowing the user to adjust the height by up to 2″, or take the top octagonal section of the handle off for travelling.  The lower 17 mm shaft measures 19.5″. Maximum overall length 38″
These have a locator pin inside the top handle so that the head is always aligned correctly with the handle. They can be made in any colour and shape configuration.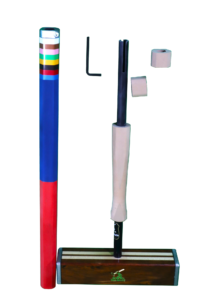 ---
Removable heads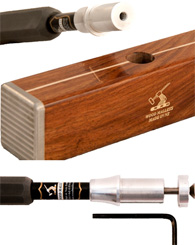 Handles are available with aluminium fittings so that heads may be removed for travelling or switched for different specifications. Add NZ$70.00. This can be a useful option if the player wishes to switch heads or handles with other manufacturers components but the additional weight of the aluminium fittings is rather counter productive to the peripheral weighting.