Description
These powder coated metal spring clips are supplied in our croquet sets, designed for hoops with a 1/2″ – 5/8″ top bar.
Available in sets of 4.
Primary Colours: Blue, Red, Black and Yellow
Secondary Colours:  Green, Pink, Brown and White.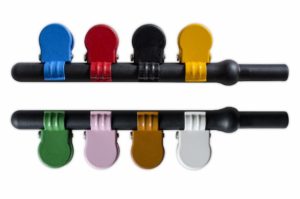 Our Original style clips shown below are more suited to Championship hoops, also available in both primary and secondary colours. They fit on most Championship hoops and easily clip to your clothing when playing Golf croquet.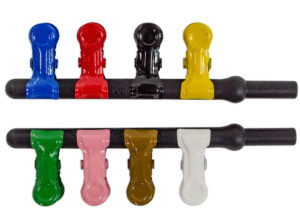 These can be purchased is sets of  4 for Association Croquet rules or can also be ordered in sets of 6 for Golf Croquet Rules. i.e: 6 Blue and 6 Red  and/or 6 Green and 6 Pink
Please note that we're currently out of stock of the sets of 12 Golf Croquet clips